10 Reasons to Buy Handmade Cards!
Posted on
1) Handmade Cards Are Environmently Friendly!
Cards which are handmade only require a small studio, like mine in my own home!
As my work is mainly done by hand, there is no need for a mass production assembly line in a separate facility or noisy factory.
When you buy a handmade card, it is less likely to end up in the bin and thus ending up in landfill!
A handmade card may be treasured or even framed to make a beautiful piece of artwork.
2) Each Handmade Card Is Unique!
Unlike cards bought from local retailers which are mass-produced in their millions, you will find unique differences in each and every handmade card.
They'll be nobody else in the world with the exact same card, your friend or family member will have their own unique piece of artwork to treasure which is also rather special!
3) Handmade Products Are Worth More!
People place more value on items which are unique and authentic and on those which they can appreciate the time and effort which has gone into producing a product.
This means that all handmade products, whether it is a piece of jewellery, handpainted pottery or a handmade card, are considered to have a higher value in society!
4) Handmade Products Can Do Better To Meet Your Needs!
With my handmade cards, you have the option to customise a purchase and you can speak to me about it directly!
You may want to buy a unique Anniversary Card for your husband or wife and you may have a special name for them which you would like printing on the front of the card.
You can literally have anything you like printing on any of my cards which is a shopping experience a local retailer cannot offer!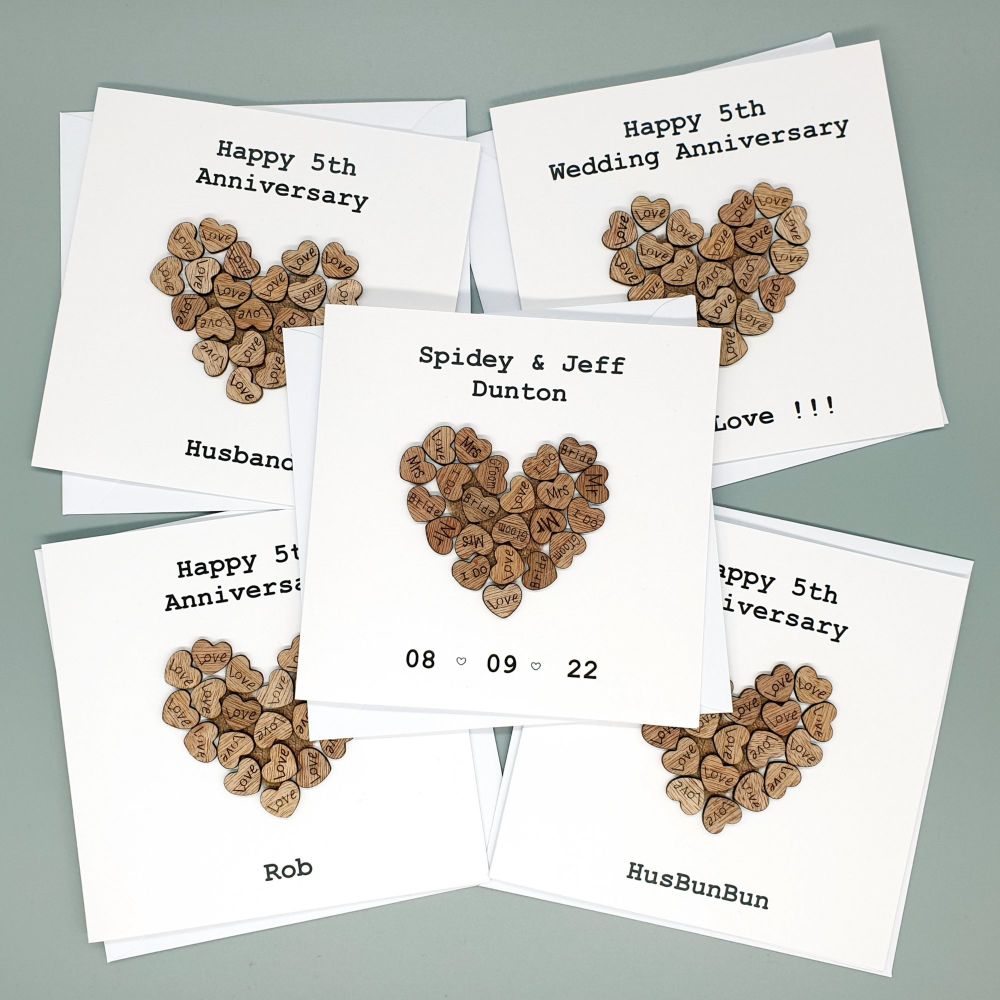 6) The Handmade Card You Buy Will Stand Out From The Rest!
How many times have you been to a birthday party or a family do and seen duplicates of the same cards up on display?
With a handmade card, which has also been personalised to make it even better! You can guarantee they'll be only one of those cards stood there on their mantelpiece, and that will be from you!
Your loved one will remember you picked that card for them and they'll likely treasure it forever!
7) There Is a Personal Story Behind Every Handmade Product!
Each of my handmade cards and my frames have gone through a journey, they have their own unique story behind them and a reason I sell them in my shop today.
So much time and effort goes into each of my products behind the scenes, from coming up with the designs, experimenting with materials, seeing what works well, and also what doesn't.
At the end of each journey, I have a product which I will make from scratch for each customer every time an order is placed.
8) You Are Buying Directly From The Maker! (Me)
When you purchase a card from my shop, the Handmade Card Studio, you will deal with me directly
When you place your order, i will receive a notification personally. I will then prepare your order, I will be the one to make it, keep you updated, pack your order and then personally take it to the post office (usually before i collect my children from school or nursery!)
9) Handmade Cards Are Made By Real People!
Unlike cards you will find in your local supermarket or from high street card shops, a handmade card has not come off a production line. It will have been made by a real person and made with love, great attention to detail and the person will have a real passion for what they do.
10) Buying Handmade Supports a Small Business Like Mine!
When you buy a handmade product from a small business like the Handmade Card Studio, you directly support a UK based artist.
The money you spend doesn't pay for large bonuses for directors of large company's, the money directly supports the person who has made your unique and wonderful item!
Each purchase from a sole trader such as myself, gives an artist confidence in their product, to re-invest it in their small business to develop and improve it in order for what they are building to grow and flourish!
I would like to take this opportunity to thank everyone who has bought a handmade card or frame from my shop so far. Without your support, I wouldn't be here still doing it today!